Meet Mistress NOX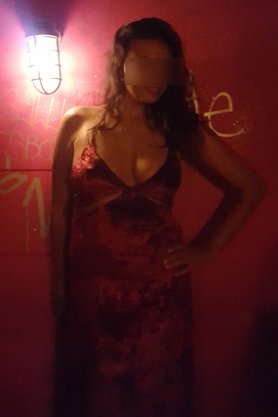 Vital stats
Height:

6'

Size:

34C-30-36

Dress Size:

8

Body Type:

Curvy

Hair Color:

Black

Eye Color:

Brown

Shoe Size:

11

Birthday:

August

Zodiac Sign:

Leo

Ethnic Background:

Mixed - European

Languages:

English

Smoker:

Yes
Nox is a 6ft tall Amazonian Godess, here to punish the naughty and tempt you with her size 11 feet and gorgeous toes. Her curvy figure and 34C cup breasts will tempt you, her silky voice comands you and her strong curvy body will correct all that bow to serve her.
Mistress nox
Week of 05/20 to 05/26
Tuesday 11:00 am - 4:00 pm
Wednesday 11:00 am - 4:00 pm
Thursday 12:00 am - 5:00 pm
Friday 11:00 am - 4:00 pm
7 Review for "mistress NOX"
Reviewed by Johnathan Wetpants

I had a wonderful first time with Mistress Nox. We didn't need to speak much, the session just unfolded perfectly. BTW - She looks very sexy in jean shorts!

Reviewed by So

Stunning statuesque beauty worth just seeing.

Reviewed by Mike

Nox is a knock out. A tall powerfull women who will make you question your role as a man. Amazing ass. Beautifull skin. Amazing legs and body. Her ass is an example of perfection. Strong personally. Makes me want to be a better man. Just watching her try cloths on while stimulating myself would be amazing.

Reviewed by The S&M Guy

Awesome session with Mistress Nox. Tall , beautiful and sadistic with sensuality. My only mistake was I submitted with her for half hour.

Reviewed by Role Play Maven

Mistress Nox's photos do not do her exotic beauty justice. She is a goddess in the vein of Sophia Loren and does not shy away from challenging role play scenarios. Mistress Nox made my first visit to Mistress Elizabeth's a memorable one, and I hope to visit again soon.

Reviewed by Jeff

Nox is very tall and attractive / bossy with an attitude that excites!! Can't wait to see her again

Reviewed by

Great Dome!
DISCLAIMER: I only offer fetish, fantasy & role-play. There is no sex being offered. Please do not inquire about any kind of illegal activities as you will be asked to leave.