Meet Mistress LOTUS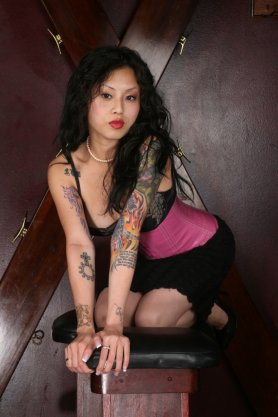 Vital stats
Height:

5'1"

Size:

34C-24-32

Dress Size:

0

Body Type:

Petit

Hair Color:

Black

Eye Color:

Brown

Shoe Size:

6

Birthday:

October

Zodiac Sign:

Libra

Ethnic Background:

Filipino

Languages:

English - Tagalog

Smoker:

Yes
MISTRESS LOTUS IS BACK !! and she is not playing games. With years of experience her expertise should not be taken lightly. She is a strict Domme and the perfect experience if you follow the proper slave/Mistress protocol. But, there is a softer; more playful side to her as well.Mistress Lotus is a creative role player and is capable of entering any world you can dream up. And she likes to dress up.  Often donning 6 inch heels that were custom made to walk all over you, trample you, and of course, humiliate you! This Mistress loves to smoke, and looks damn sexy doing it.
Mistress lotus
Week of 08/03 to 08/09
5 Review for "mistress LOTUS"
Reviewed by Daniel McHale

I love your hairstyle and Asian female nature. Also your sexy attitude is making my Male senses extremely weak

Reviewed by Eddie

An incredibly sexy Mistress. I've called and emailed many times . Either she's booked or not in. Hopefully someday we will meet ? I guess the anticipation is half the fun .

Reviewed by Slave John

Mistress Lotus, I would love to serve and obey you. I will obey your every whim and command and take joy in it. Can I send you a gift ? Love, Slave John

Reviewed by Happy Tony

Simply the very very best. Whatever you are into she can dominate. Also gorgeous by the way

Reviewed by happy tony

Simply the best ever in every possible direction. have had many sessions and unbelievable each time. Incredible architect of pain tease and denial bondage just have a good discussion up front and then look out!!! I miss her so much.
DISCLAIMER: I only offer fetish, fantasy & role-play. There is no sex being offered. Please do not inquire about any kind of illegal activities as you will be asked to leave.